SQUIDappliance REPORTING
Motava Squid Reporting Appliance is a simple and feature rich Squid Reporting server all bundled into a vmware appliance to ease the deployment into your network.
Features
Rich web based application using PHP and YUI
Reporting (exporting to pdf and csv)
Searching
User Authentication
Bar and Pie charts
Includes Squid Version 3.0 Stable19
NOTE: This does not include DansGuardian
Appliance Info
OS: Ubuntu 10.04 Server Version
Squid 3.0 Stable 19
Webmin Version 1.510
Apache Version 2.2.14
PHP Version 5.3.2
Login Info
OS Username: squid
OS Password: motava
Webmin Username: squid
Webmin Password: motava
Squid Reporter Username: admin
Squid Reporter Password: admin
We have 2 different downloads available for purchase.
.ovf version for ESX or ESXi installations
vmdk version for vmware server 2.0 or vmware workstation 6.x +
Screenshots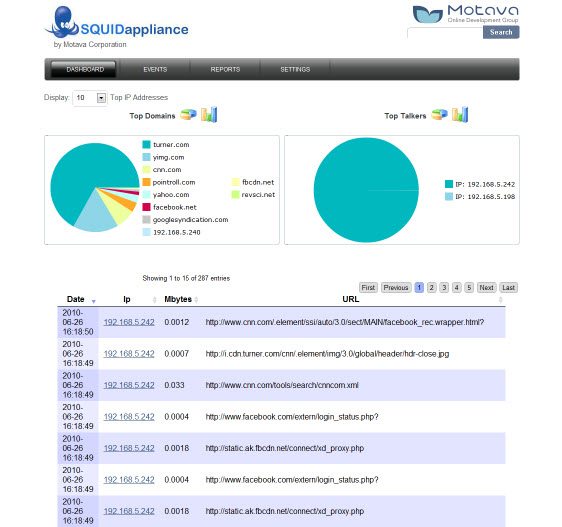 Dashboard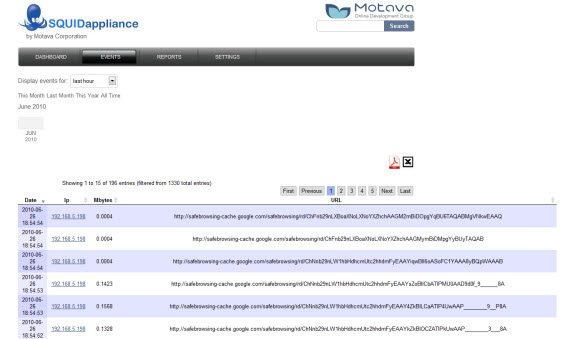 Events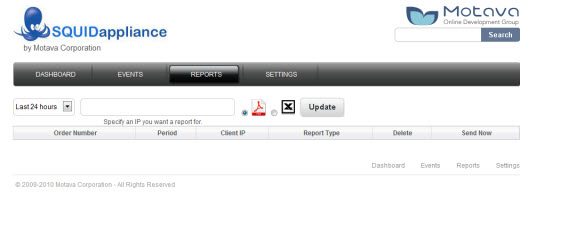 Reporting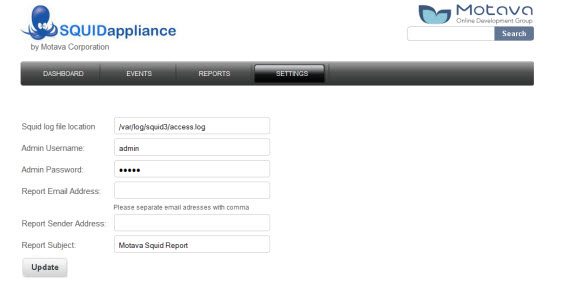 Settings
Installation
For ESX and ESXi, launch vSphere Client. From the menu, select File >> Deploy OVF Template. Choose Deploy from file and browse to the location where you extracted the archive, click next and verify the info. Click Next 2 more times, then finish to start the import process.
For Vmware Workstation, Server or Player, extract the archive and from the menu select File >> Open and browse to the location where you extracted the archive and select the .vmx file.
FAQ
I imported the virtual machine into our inventory and started the squid appliance up, but I do not see an eth0 interface.This is common with vmware and the Ubuntu OS. To fix this, from the terminal, remove the following file:
#sudo rm -fr /etc/udev/rules.d/70-persistent-net.rules and reboot.
Can I add more than 1 user to the Squid Reporting Interface?Currently you can only add 1 admin user.
How old is the data on the Dashboard page?Data on the dashboard page is 24 hours
How can I access Webmin?You can access Webmin by going to https://1.1.1.1:10000 (replace 1.1.1.1 with your real IP address). Login using username squid and password motava
How can I contact you for support?Please send us an email through our contact form.